Cloud Printing
Cloud Printing
Why cloud printing is the new industry buzzword

It's good news for the printing industry.
This year's CeBIT in Hannover, the world's largest IT and office automation trade show, sent a very strong signal to the global market that printing and paper are far from disappearing.
Quite the opposite, it would seem. Once seen as the death of printing, the digital economy and our mobile business environment is the current driver behind a rising demand for cloud printing.
And what exactly is cloud printing?

Cloud printing allows printers to be accessed via cloud computing. Using cloud-enabled printers, consumers can print directly from a mobile device, removing the need for cables and PC connections. Businesses using cloud printing can leverage on networks of printing facilities, printing on an ad hoc basis, as required.  
This will lead to printers gradually being regarded as devices to access on demand, and no longer assets in their own right.
Cloud printing for an omnichannel world
Today's highly skilled professionals are increasingly collaborating with colleagues in a mobile and flexible business environment. They are project-based knowledge workers, no longer part of a fixed team or tied to a single location. They work across different time zones, outside standard office hours etc. Communications are increasingly omnichannel; business professionals need to be accessible anywhere, anytime, on any device.
The result is a growth in cloud platforms, enabling a wide range of business services to collaborate using a single source – and this includes printing solutions.
Recent research sponsored by Samsung shows that mobile devices are becoming the predominant business communication tool for those driving this new business environment – typically young, male, higher income, mobile, location-independent, knowledge workers.
This new type of skilled professional wants to read documents in print, making changes and additions before re-sharing them with colleagues in digital form.
Boosting print volumes

This is good news for the printing industry, which has been fearing falling print volumes.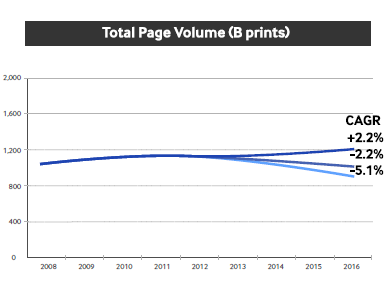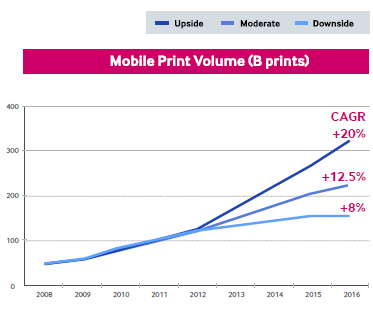 Figure 1: The worst possible case decrease in total print volume will be compensated for by mobile print volumes, claims a study by market researcher IDC for Samsung. (CAGR: Compound Annual Growth Rate)
Clearly we don't want to print less, rather we want the flexibility to print on the move, wherever we are, and from the mobile device of our choice.
The printer becomes more than just a piece of hardware for printing documents. It becomes an essential part of the overall collaboration process, bridging the gap between analogue and digital worlds.
Yet we are still only at the brink of this development.
The 'Document of Tomorrow' – as Samsung calls their solution for small & medium-sized enterprises – will lead to a cloud-based environment that links printers, scanners, tablets, smartphones, TVs, etc.
Like any other development, the market is turning to easy to use, fun to operate, status-driven devices. This "ANY –TYPE" mobile communication-driven business environment creates the growing demand for mobile printing.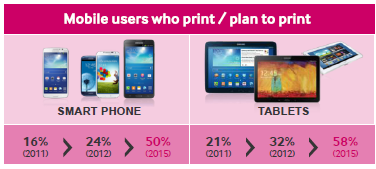 Figure 2: Growing demand for mobile printing, study by IDC, commissioned by Samsung
The benefit of a secure commerce logistics environment
Near Field Communication (NFC) adds an application hub to this development and is ready to be used by hardware suppliers. The driver behind such technology is again hybrid communication, taking the best of the analogue and digital world, to achieve highest productivity through embedded services, available at anytime.
Digital commerce & logistics providers will need to meet the growing demands of mobile users who want to:
Print anywhere
Digitalize printouts
Share seamlessly with colleagues
Communicate in a highly secure environment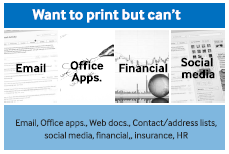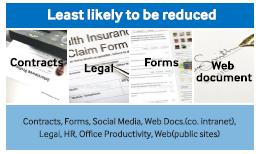 Figure 3: Study by IDC, commissioned by Samsung
Secured cloud services, such as Samsung's KNOX, will enhance the security level of communications between mobile devices, authenticating receivers and senders by means of mobile telephone numbers and additional mobile identities.
All this is supported by NFC, bridging media, enabling omnichannel communication, seamlessly linking to hardware, printing, scanning, presenting, etc. 
Future interconnectivity is just a few simple taps away.
Does this article cover a topic relevant to your business? Access the CLS Business Lounge for the market intelligence you need to stay ahead of the crowd. Find out more