Digital Post Services
Digital Post Services

TODAY'S POSTS MUST RETOOL AND BECOME DIGITAL POST SERVICES TO SUCCEED IN A DISRUPTIVE POSTAL ENVIRONMENT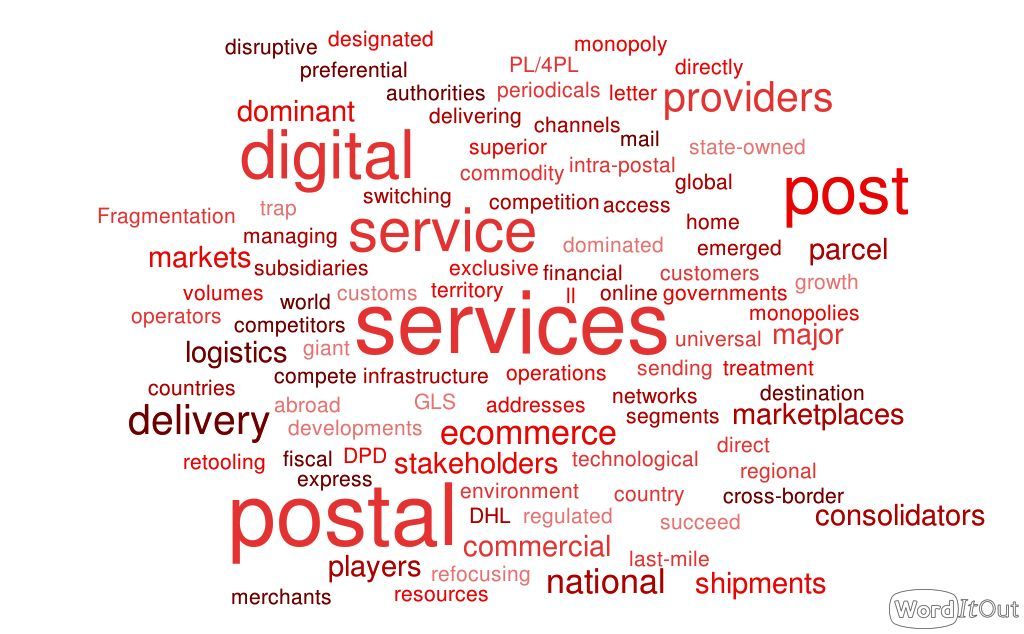 At A Glance
For decades, national postal services – often state-owned and blessed by preferential treatment from customs and fiscal authorities – have been the dominant players in letter and parcel logistics. True competition has only really emerged in a few segments such as express delivery, direct mail, and the delivery of periodicals.
Our digital post services series explores how the growth of ecommerce and associated technological developments, paired with the rise of new competitors, is fundamentally changing the nature of postal services.
1. The rise of new, dominant stakeholders
In the past, national postal services – designated by their governments as the exclusive provider of a universal postal service – have dominated their markets. They have enjoyed legal or de-facto monopolies, as well as usually being much bigger than their customers.
Today, individual commerce logistics industry stakeholders – 3PL/4PL service providers, consolidators, major online merchants, and especially the giant ecommerce marketplaces – are often bigger. They also have superior access to financial resources, as well as controlling parcel volumes, actively managing and switching between delivery channels and service providers.
In cross-border ecommerce, many postal services have lost their direct contact to marketplaces, consolidators and IT service providers. They are now controlled by, and dependent upon, the digital infrastructure provided by other stakeholders.
As a result, many postal services have fallen into the "commodity trap" – reduced to the status of providers of easily exchangeable, last-mile services.
 2. Fragmentation & intra-postal competition has changed and weakened postal services
Originally, the postal world was clearly regulated and ran like a clockwork.
Each national postal service was responsible for its "own" territory, with a monopoly on delivering all shipments arriving from abroad, and on sending all shipments for addresses abroad directly to the postal service responsible for delivery within the destination country.
Things have changed.
Some major postal services have expanded their operations to other countries. They either compete directly in the home markets of other postal operators, or establish their own commercial subsidiaries (e.g. DHL, DPD, GLS, and many more) to become regional and global players, allowing them to compete with big, commercial logistics networks.
Many of the small postal operators, however, now face the threat of becoming exchangeable suppliers of "logistics commodities", and losing their direct access to senders.
3. Digitalization & new IT requirements
On 1 July 2021, the import regime for customs clearance & import VAT on commercial items entering the EU changed fundamentally, becoming fully digital.
In doing so, the European Union has ended a market distortion that has led to an unequal playing field, to the detriment of European commerce as a whole.
The damage caused by those taking advantage of the cross-border commercial items delivery channel into Europe had already reached the multi-billion euro mark several years ago: senders located outside the EU understood how easily the postal channel could be used for cheaper delivery tariffs, under-declaration, and consequently customs and import duty fraud.
The current core postal business – low-value-consignments – is now subject to a new, fully digital and simplified customs clearance procedure.
This brings to an end the privilege and de-facto monopoly on paper-based customs clearance currently enjoyed by the designated postal operators. Additional regulations, resulting in fully digital freight information systems, will follow in the coming years.
Furthermore, on 1 January 2021 the Universal Postal Union introduced worldwide mandatory advanced digital prior notification – electronic advanced data (EAD) – for each cross-border mail piece containing commercial items carried within the networks of designated postal operators.
4. New tariffs & the rise of multi-carrier / multi-channel solutions
Current developments at the Universal Postal Union, in particular rising UPU tariffs and the new self-declared rates of players such as the United States Postal Service, are rendering the previous, often preferred "classic postal channel" model – sender hands mail to a non-EU postal operator which forwards the mail to the EU via an EU postal operator for customs clearance and delivery – increasingly unattractive.
Senders are now searching for – and finding – multiple means of accessing postal delivery in the destination country, often using consolidators as intermediaries.
The purchasing power of the big marketplaces has significantly shifted the balance of power, resulting in new tariff models and a higher level of digitalization.
Postal delivery has now become just one component in a highly digitalized multi-carrier portfolio, managed by players in the market with a direct digital connection to the customers and who are able to add digital value-added services.
Postal operators must become digital post services if they are to succeed in this new environment
In summary, today's postal services are facing a series of business & digital challenges which fundamentally change the nature of the postal business. This is a revolution, not an evolution.
At the same time, the postal channel has become an increasingly attractive option as a cheap logistics solution for commercial operators and marketplaces. However, the postal world is an extremely closed, specific environment, with its own standards, terms and workflows, making it a difficult environment for "outsiders" to understand.
For more about this subject, check out the articles in the Digital Post Services series below, and come back regularly for updates.
Need more information, insights, or support? Contact the Commerce Logistics Specialists directly.
Does this article cover a topic relevant to your business? Access the CLS Business Lounge for the market intelligence you need to stay ahead of the crowd. Find out more