Address Standard
An Address Standard For Europe

Facilitating cross-border services & data-driven communication

At A Glance
Europe's 28 member states are in the process of setting national address templates, each based on the UPU global address standard which defines the elements making up an address.
This is a major step which will facilitate cross-border services.
More importantly, it is the basis for identifying senders and recipients, and this is the foundation for all data-driven communications.
Addresses are a vital part of Europe's infrastructure; they provide the backbone for delivering documents, goods and services.
Standardized address templates, based on international, European and national standards, enable senders to rely on verified presentations of addresses and achieve the highest possible efficiency in reaching recipients.  
As of December 2013, in addition to the majority of EU countries, Austria, Denmark, Iceland, Ireland, Norway, Sweden and Switzerland have all developed address templates in line with the international addressing standard, and will be ready for approval in 2014.
Standardized addresses facilitate cross-border mailing

Each of the 28 member states of the EU currently presents its national addresses differently. The postal address, its presentation and the location of its various elements, varies across each EU state. This reflects Europe's decentralized character and its history.
As posts moved from analogue document handling to output management systems, a different approach to handling address data became necessary.
Today addresses are maintained and handled in databases. When documents are prepared for mailing / goods packed for sending / direct marketing campaigns developed, then national definitions for address elements are applied.
This poses challenges for international, cross-border interoperability.
Therefore the UPU and CEN have designed international address standards defining the different elements of a postal address, upon which national address templates -with their national specialties and specific characteristics - are based.
Europe's fully-liberalized market for postal delivery services (letters, packages, parcels, media products, magazines, flyers, leaflets), is highly competitive, making equal access to clearly defined postal addresses a prerequisite for success.
ISO takes over address standardization

2013 saw a shift in standardization work from the UPU (Universal Postal Union) and CEN (European Standardization) level to the international level and the ISO (International Standards Organization).
In the very near future, overall responsibility for an international postal addressing standard will lie with ISO's technical Committee 211. A clear lead will be granted to the UPU, however, it remains the sole responsibility of the national standardization authorities and their mirror committee's to ISO TC 211 to safeguard specific national characteristics when a national postal address template is standardized.
Figure 1: Currently only a few countries have clearly specified postal addresses. Postal address infrastructures are a clear indicator of a nation's economic growth and prosperity.
Postal infrastructure is an indicator of economic growth
If we look at the current deployment of address templates, one can easily see that a defined and standardized postal address infrastructure is a clear indicator of a country's economic growth and prosperity. It is therefore the clear aim of the EU member states to ensure that postal address templates are available for all EU member states.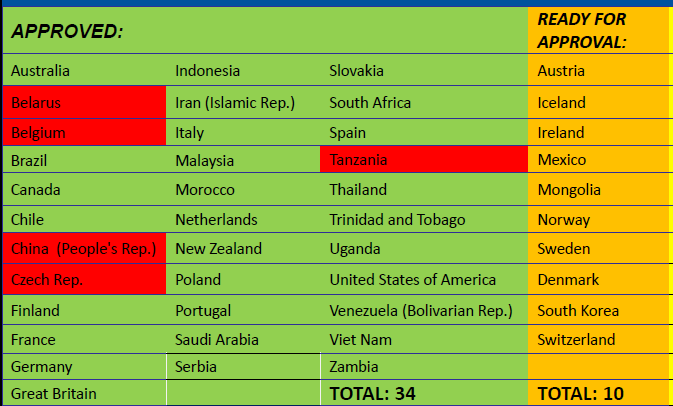 Figure 2: Current status of address templates, either already approved or ready for approval. (Red= 2013 nominees.)
2014 will see another 4 EU members countries having their postal address templates approved.
Unsurprisingly, the efforts being put into creating address standards is raising efficiency, and is the foundation for further growth in core development areas such as ecommerce and a sustainable social economy.
Address standards bridge the analogue and digital worlds

The postal address is one of the cornerstones in bringing together the analogue and digital worlds, enabling the move from an item-driven to data-driven business model in logistics.
Document-based communication, as well as goods and service delivery, is increasingly based on the data exchanged prior to acceptance, before a postal or logistics value chain is even engaged.
The postal address infrastructure is used to check the validity of addresses used in direct marketing or bulk transaction mailings, not to mention package or parcel delivery.
Figure 3: Process of address rendition as part of address validation provided by a national postal service provider, to ensure that the address used reflects the national address template (and is valid).
Consumer lifestyles are changing, and as recipients become more mobile and interconnected there is a greater need for alternative delivery addresses.
These alternative addresses must be linked to leading addresses, to digital identities, or, where accessible, to electronic identification.
Standardized addresses are the basis for postal electronic identities

In the data-driven postal environment, posts manage postal electronic identities (PeID).
They act as address verification services, identifying senders and recipients, their associated attributes, and providing access to a trust framework which bridges borders and continents. Standardized addresses are the foundations upon which PeID is built.
In summary, the work being done to address Europe is stimulating additional growth and sustainable development. From its initial role in identifying a physical delivery location, the postal address has developed into an identifier of recipients and senders, leading to the development of alternative delivery and communication logistics systems which meet the challenge of an increasingly mobile and interconnected digital society.

Walter Trezek is the Chairman of the Consultative Committee (CC) of the Universal Postal Union (UPU).
Does this article cover a topic relevant to your business? Access the CLS Business Lounge for the market intelligence you need to stay ahead of the crowd. Find out more